To: Encore Games Athletes
One weekend complete.. and one weekend to go. Congratulations to all.. and thanks for coming.. for your enthusiasm, can-do attitude and love of sport! We salute you!
The following sports are finished:
Bay Area – Basketball, Racquetball, Track & Field, Racewalk, Tennis, 5 & 10K Road Race (October 26, 2014)
Sonoma – Golf, Pickleball, Cycling, Volleyball, Bowling
Coming up November 15 & 16: – Badminton, Swimming, Archery and Table Tennis
As for the Qualifying process for the 2015 Summer National Senior Games in Minneapolis-As soon as the Encore Games are finished – November 16 – our office will report the results to the NSGA. Once the results are reported and confirmed, you will be in the NSGA system. The NSGA will send those of you who qualified, an invitation to register on line. Our office will also send a confirming reminder. (please check your junk mail) And expect these communications by mid-January.
Here is the official communication from the NSGA: Qualified Athletes will be able to register for the 2015 Games beginning mid-November when the state(s) they qualified in are listed on the NSGA website. States are listed when all of their results are submitted to NSGA and verified. We will send an e-blast to qualified athletes, when the results have been uploaded. In addition, NSGA will send out one postcard by mail to their address of NSGA record with the same notification. Information about online registration will be shared in these communications. NSGA is also pleased to announce we will again offer an Early Registration discount for athletes who complete their registration by the February 28, 2015 deadline. Final registration deadline will be May, 1, 2015.
As this was our first year to offer a second chance to qualify, we are proud that California was able to do this. And thanks to you all for accepting the challenge!
Finally.. if you have any photos taken at the events this weekend, please send them to us – if you want to share – we want to post on the web site.
Look for results to be posted at www.encoregames.org in the next few days.
Anne Warner Cribbs
Chair, California Senior Games Association
Olympian 1960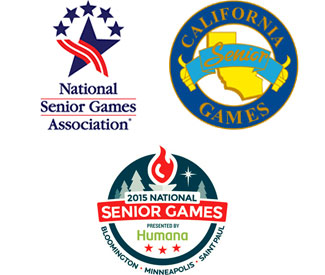 Swimming November 16th Information